by Sarah Vesco
Welcome. One of the characteristics of the articles we present in this edition of the Rallo Winery Magazine and probably the most important, is the evident passion and knowledge of the authors that have writ­ ten each single piece.
Reading not focusing only on the texts but also on the evocative photographs that give support to the text, these words of Confucius come to mind: "Choose the job you like and you will never work a day of your life". This is probably the reason for which, when choosing the writers, we have preferred those who with enthusiasm have decided to embrace the writing profession.
Toque & Toque is a column of great success among the public, written by my dear friend Francesco Pensovecchio and read by more and more by enthusiasts of high quality cuisine and Sicilian places. For this edition I advise them The Emperor's Summer which is a knowledgeable description of the "bistorante" (bistro & restaurant), i Cucci of Nicola, Giuseppe and Giorgio Stassi, in Palermo.
An important theme of the everyday commitment of the Rallo Winery is the Catarratto. This grape variety of ancient origins and recent re-evaluation, is protagonist of two of the last columns : GustosaMente, created for the occasion and assigned to the skilful pen, Emanuele Alessandro Gobbi, and Rallo di Scena run by the pleasant hand of Francesca Mignemi.
The first article is typically technical-scientific while the second of literary style that pairs a glass of Beleda to the well-known novel "Il vento nei salici" by Kenneth Grame.
Very interesting the piece of Davide Visiello that interviews Ciccio Sultano for us. Particular, instead the article by Carlo Passera, Il Prodotto Sicilia, that suggests a virtual tour through the excellence products of Sicily, telling about the numerous potentialities of our fantastic territory.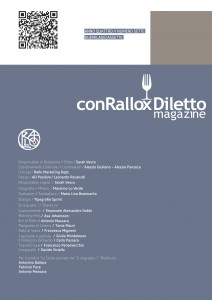 Relevant and modem the interview of Ricky Tognazzi, actor, director and film producer, taken by Tania Mauri.
Ultimately, the collaboration with Giulia Monteleone far the column What Boils in the Pot, presents a new association of professionals, "Noi di Sala", a group of friends willing to rediscover the role of "dining and cellar" operators.
Very amusing the article by Antonio Massara that by means of The Mickey Mouse Algorithm, presents himself and presents us all as new project that we will carry on, intended for the cellar social channels.
Even far this edition we have had the collaboration of the foreign writer Asa Johansson, that in Boarding Pass tells us an interesting story about white wines in Sweden.
What else should be said? Enjoy the read.
download magazine (pdf): MAGAZINE NUMERO7